An Award-Winning 10-part Public Television and Video Series for Reducing Teen Violence
For Grades 6-12
PeaceTalks is a powerful tool for reaching teenagers and reducing violence. Lively, moving and dynamic, this research-based, award-winning program incorporates multiple approaches shown to be effective in reducing aggression and violence. By combining the caring humor of Michael Pritchard with the "best practices" of violence prevention, PeaceTalks provides teachers and counselors with a unique enhancement to any violence prevention program. An excellent springboard for group discussion, the series includes social-skills training and provides students with practical, easy-to-use techniques for reducing violence and choosing peace.
Each program is approximately 28 minutes and comes with a Leaders Guide.
From the producers of: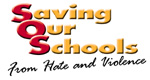 H
eartLand Media
4104 24th Street, # 128
San Francisco, CA 94114
415-642-5828
415-642-5838 (fax)
Order Line: 1-800-99-YOUTH